The OCCI works to conserve our wildlife, fish, forests, waters, air and soils by releasing pheasants, restocking fish, planting trees, and by cleaning up the environment.

Every year around the fall the club releases around 300 pheasants into the wild. The pheasants are purchased from local suppliers. They are then released onto club land.
About every three years the club restocks the 3 lakes; Lake Allen, Raspberry lake, and the Oakfield pond. Fish include: Bass, Perch, Walleye, Northern, Catfish, and Crappies.
A yearly spraying to control weeds in Raspberry Lake and the Oakfield Pond.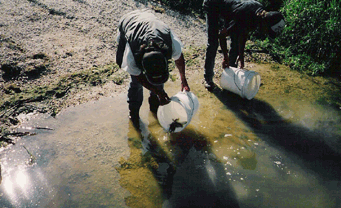 The Club also plants thousands of trees including: White Pine, Blue Spruce, Black Hilled Spruce, and White Oak. This usually takes place every year depending on projects that need to be done.
Last year club members cleaned up the Oakfield Ledge and Breakneck Road Ledge.
The OCCI also donates to different Wisconsin organization; Whitetails Unlimted hold a workshop at the Clubhouse grounds . A $500 conservation scholarship is available to high school seniors graduates pursing a conservation career. For more information on scholarship please contact Marc Sobotta, address is located on contact page.
The OCCI helps fund a hunter safety class in Oakfield usually between march and april. Instructors, that are certified through the DNR, teach students gun and hunting safety; students are also required to take a .22 shoot and a trap shoot.
The OCCI also sponsors a youth trap league at the Wescot Sportsman's Club.
If you have any inquires on anything on this page please look at the contact page for information.
The Oakfield Conservation Club would like to take the time to say Thank You to the following businesses for their contributions:
Central Restoration, LLC
For donating their equipment and labor to the OCCI. Thank you to Marc Sobotta and crew.
Waas Boring & Cable
For donating their equipment to the OCCI. The equipment was use to move brush that was cut last fall in 2008. Thank you to Randy Waas and also to Randy Page for his time and for operating the equipment.